We are back! New design, new features and many UX improvements
21 August, 2022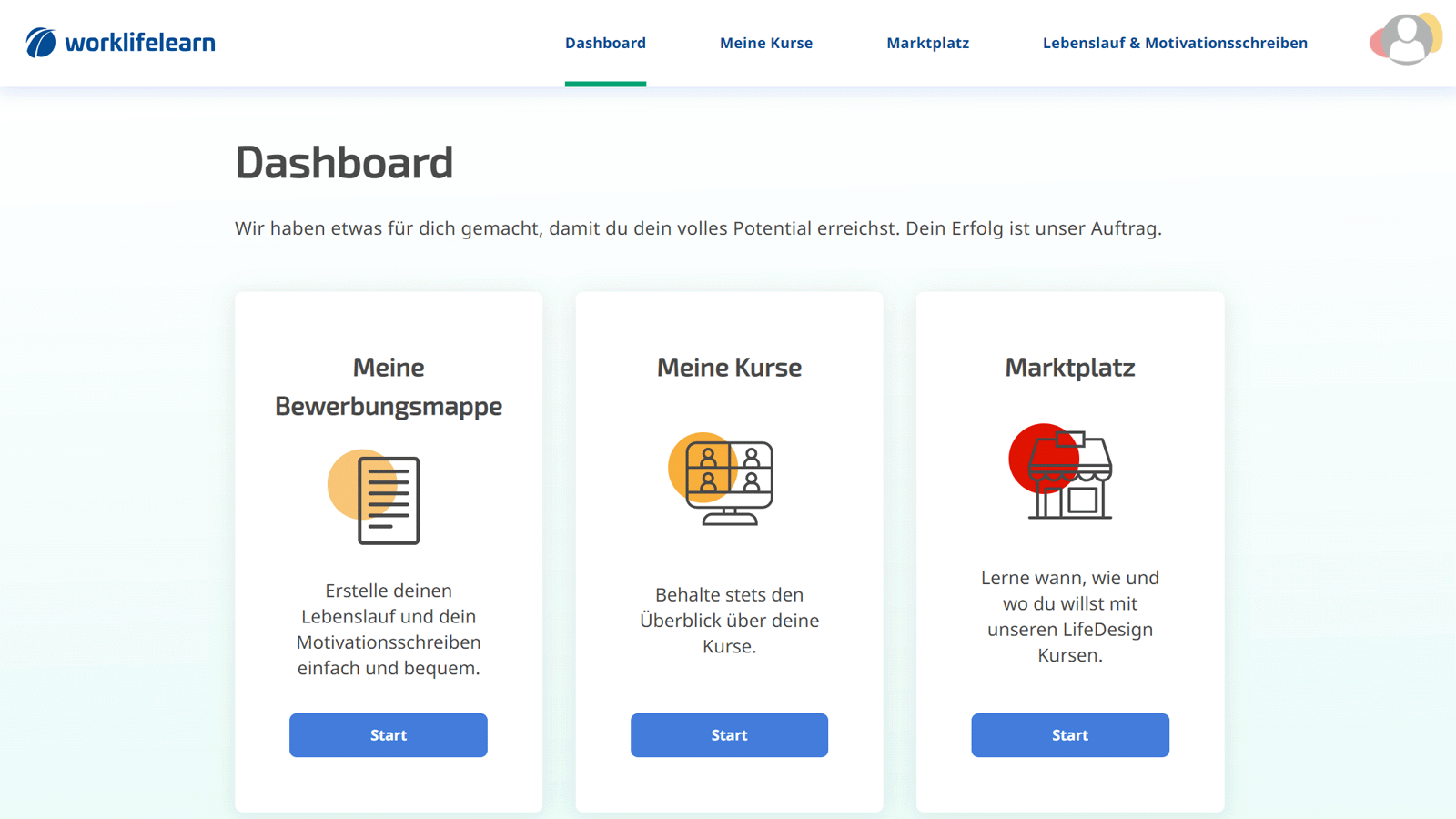 Welcome - new beginning! We locked ourselves in the little room for the last few weeks, cleaned out and disposed of the old, eliminated clutter and formed new functionality. Thanks to your support, we managed to put worklifelearn in a new outfit. A complete makeover, new features have been developed that optimize existing functions and we have a packed roadmap for the near future.

First things first – what is new?
We gave worklifelearn a completely new identity. Our daily work with you has shown us how different the needs are and how colourful the topics are that move or concern you. All this experience is reflected in this design. Lifelong learning is colourful, that's how you are, that's how we are, that's worklifelearn.

Our marketplace is online. Would you like to tinker with your vision? Do you need help with career orientation or would you like to learn more about LifeDesign Skills? Then we have the right thing for you. Interesting quests, webinars and classic e-learning content are waiting for you. The offer in the marketplace will be expanded bit by bit for you and adapted to your needs.
What has happened to the application portfolio?
Our CV and cover letter tool has been an integral part of worklifelearn since the very beginning. Thanks to your feedback, we have now been able to implement many improvements and developed the most requested features for you.
Not part of our worklifelearn community yet? Register for free and try it out, but here is a quick overview of the application folder. 
In worklifelearn, you can conveniently manage your schooling, your previous career, all further training (seminars, courses, etc.) and milestones in the My Story area. So you have everything easily accessible in one central place. Create your CV and your individual letter of motivation in just a few minutes, almost at the touch of a button. Manage all created documents and generate your individual application portfolio. It's best to try it out right away.
Here is an overview of the most important innovations:
My Story

Easier to create events
Improved calendar function
Improved search & filter function
My CV

Word export possible for maximum customization
2 new clean layouts available
Certificates are automatically visible in the CV export


Cover Letter (Motivation Letter)

Word export possible for maximum customization
Customized layout
Improved input panel

All Documents

Easier creation of the individual application folder
Improved sorting of created documents
Improved overall overview
And psst...if you find the play sign in the areas on the left, then just click on it. We may have a few tips & tricks in store for you.
We look forward to accompanying you on your journey, but we are just as happy to welcome you on ours. We all develop and so will worklifelearn. We are just at the beginning and are just getting started. 
Sign up for free and test our tools, sign up for our courses and be part of our community. If you have feedback for us, just click Feedback in the footer or email us at feedback@worklifelearn.com. 
One more thing, above we talked about a roadmap. Stay tuned, first events, a podcast and much more is already in the starting blocks. It's worth sticking with.
We wish you a good day
Your worklifelearn team